Local, passionate, and experienced mountain runners will lead all 6 mountain runs.  Our Run Leaders have been chosen based on their ability to lead people outdoors, running experience, and personality. Feel free to ask them all your running questions. They are there to keep you safe, as well as encourage, motivate, and share their knowledge.
---
Addie Bracy: Pro Runner / U.S. Mountain Running Champ / Salomon Athlete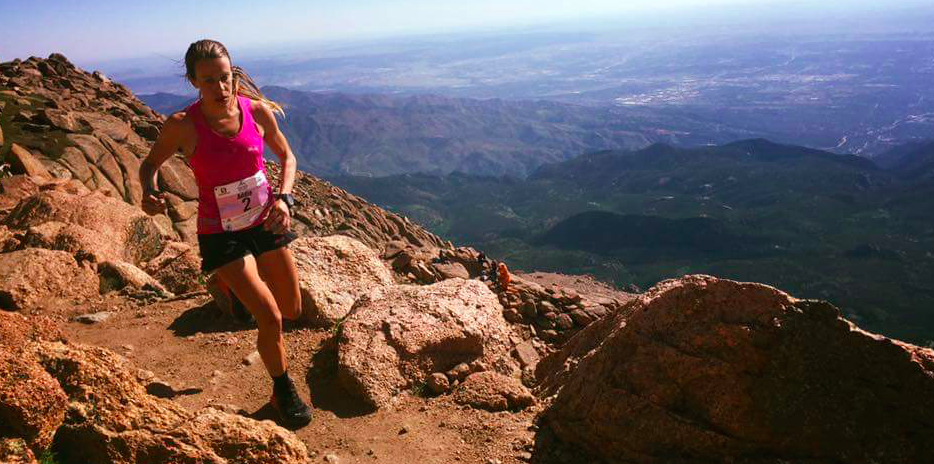 Addie Bracy is a professional runner and coach who lives and trains in the Boulder, Colorado area.  She has been an elite runner for quite some time, but has taken the US Mountain Running circuit by storm the last two years, already accruing 3 national titles.  In college, Addie ran for the University of North Carolina, then turned pro and competing on the roads and track where she qualified for both the 2012 and 2016 Olympic Trials in the Marathon (2:35 PR).
Addie's recent mountain running accomplishments include: 
2017 World Long Distance Mountain Running Championships in Italy – 6th Overall
2017 & 2016 U.S. Mountain Running Champion!
2017 Barr Trail Mountain Race Champion!
2017 Pikes Peak Ascent – 3rd Overall!
2016 USATF Trail Marathon National Champion!
You can follow Addie's adventures on instagram: @addiebracy  
---
Adam St.Pierre: Elite Endurance Coach / Exercise Physiologist / Competitive Ultra Runner 
Adam is an elite endurance coach based in Boulder, Colorado with over 10 years of experience coaching athletes of all ages in a variety of sports.  He has worked with junior athletes, NCAA Division I collegiate athletes, elite professionals, recreational masters, and everyone in between, in sports ranging from Nordic skiing, to ultra-running, to triathlon, to ski mountaineering.  Adam received a masters degree in Exercise Science in 2006 and spent over 7 years as a physiologist and running biomechanist at the renowned Boulder Center for Sports Medicine (now CU Sports Medicine and Performance Center).  His many years of experience working as a professional exercise physiologist and sports scientist give him the knowledge base to correctly develop any athlete using a multitude of proven training methods.  Given his experience, Adam has become a go-to expert for publications like Runner's World, Men's Health, and Outside Magazine.
Adam is also an accomplished ultra runner, with sub 24-hour finishes in America's top 100 mile races:
2011 Western States 100: 21:47:19
2011 Leadville Trail 100: 23:56:15
2012 Superior Fall Trail 100: 23:24:22
2012 Run Rabbit Run 100: 23:34:00
We are thrilled to have Adam at our camp leading two training workshops over the weekend that will be sure to improve your running.
You can learn more about Adam's coaching services here: http://trainright.com/coaches/adam-st-pierre/
---
Silke Koester: Elite Ultra Runner / Rocky Mountain Runners Co-Founder / La Sportiva Mountain Team 
Silke lives in Boulder, Colorado with her husband and La Sportiva Mountain Running teammate, Ryan Smith.  She has been running ultras since 2008 and co-founded the local running club, Rocky Mountain Runners, in 2013.  Silke works full-time in the educational non-profit world, enjoys baking bread and embarking on overly ambitious DIY home remodeling projects.  She is also a novice beekeeper.  Silke does a lot for the running community, a true ambassador of the sport, and one hell of a mountain runner, which is why we are honored to have her returning to camp next Summer!
Silke has many race podium finishes, but her proudest accomplishments include:
Finishing my first marathon, the NYC Marathon, in 2006
Supporting Ryan in his 9th place UTMB finish in 2015
Two Top 10 finishes at the Pikes Peak Ascent
Earning the WS100 silver buckle, my first 100 miler, in 2014
The finish line of every race!
You can follow Silke's adventures on her Blogs:
---
Matt Daniels: Elite Runner / Nike Trail Running / Sub 4-minute Miler 
Matt's running accomplishments include: 
2-Time USA Mountain Running Team Member
2017 Flagline 50K – 1st Place (3:32:52)
2016 USATF 30k Trail National Championships – 2nd Place
2016 U.S. Olympic Marathon Trails Qualifier
PR's of 3:59 Mile, 13:50 5K, and 1:03:43 Half-Marathon
Matt's running is supported by Nike Trail Running & Boulder Salt
You can follow Matt's adventures on instagram: @mattdaniels480
---
Phil Germakian: Camp Director / Competitive Mountain Runner / Running Coach

Phil has been a competitive athlete for over 25 years, competing in the sport of wrestling, triathlon, running, and ultramarathons.  He started running trails a decade ago, and has finished over 70 races from 5k to 100k.  Phil is a full-time school teacher, USATF Certified Level-1 running coach, and has over 12 years experience leading people of all ages outdoors. Originally from the east coast, Phil found his love for trail-running in the Catskill Mountains of New York. His passion for exploring mountains brought him to Colorado five years ago, where he now resides with his wife, Christine, and son, George.
Phil's 2017 Adventures included:
Canyonlands National Park Adventure Run – 21 mile loop around Island in the Sky
Quad Rock 25 Mile
Bryce Canyon 50 Mile – (9th Place)
Longs Peak Summit – 15 mile out and back to 14,259 feet!
Pearl Street Mile – (11th Place in 5:09)
Pawnee-Buchanan Adventure Run – 26 mile loop in Indian Peaks Wilderness
Follow Phil's adventures on Instagram: @germakian